Proving to the World that Your Age Does Not Define You.
The vibrant life of Ruth Flowers is an inspiration to us all. After running the Berlin Marathon at age 57, she still felt like something was missing. Helping her grandson organize his birthday party, inspired her to become a disc jockey (DJ) at the age of 69. She was a well renowned DJ in her home country of England and abroad.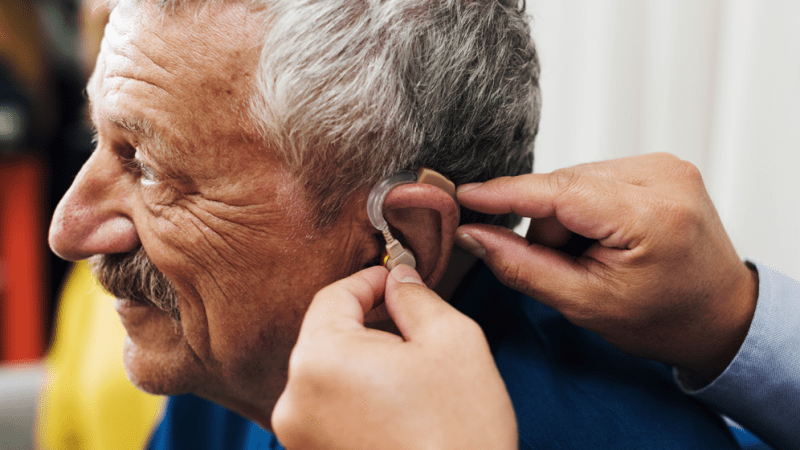 HEARING LOSS AND DEMENTIA LINKED IN STUDY
Seniors with hearing loss are significantly more likely to develop dementia over time than those who retain their hearing, a study by Johns Hopkins and National Institute on Aging researchers suggests. The findings, the researchers say, could lead to new ways to combat dementia, a condition that affects millions of people worldwide and carries heavy societal burdens.
Dr. Sinha is one of the finest physicians I've ever met. He gives undivided attention, provides clear explanations, answers questions thoroughly, exu...
I've been going to Dr. Sinha for my sinus needs for a few years now. He is a great doctor that actually takes the time to explain things to me and is ...
The most thorough medical exam I have had in years. You and your staff were excellent. Thanks, Doc. Happy Diwali ya!
Excellent bedside manner! Thorough evaluation and explanation of all steps and kept me comfortable throughout the procedure. High quality staff.
Dr. Sinha is a good physician and I will see him again.
Dr.Andrews is very patient in attending any of his patients.. he took enough time in listening n attending my concerns.. I definitely recommend him
My appointment with Dr. Andrews was fantastic. He was extremely professional. He puts patients first. I left with my issue resolved! I highly recommen...
Dr. Andrews is the most patient doctor I've met. He was thorough with everything and took his time to explain everything to me. I felt ensured that my...
Dr. Lanny Close is highly knowledgeable and very personal. As a first time visitor, I was able to make a same-day appointment and tackle a sinus infec...
Pleasantly surprised at the overall experience. Front desk staff was courteous, knowledgeable, and have a positive attitude. Doc was super attentive. ...
Excellent & very detailed.
He is such an amazing and very knowledgeable doctor.
This was my first visit to Dr. Downie and his practice. I made an appointment to get my ears unclogged after one got so jammed up I couldn't hear at a...
First time at an ENT, very kind, helpful and knowledgable. Put my worries to rest. Would recommend definitely.
Dr. Downie is very professional, knowledgeable and proactive. He listened, asked questions and scheduled tests to further evaluate my situation. He pe...
My visit went well, the doctor was on point, listen to what my issues were and solved my problem right there. We talked about another issue that I hav...
Downie is really kind and excellent doctor. He tells you the problem in a transparent way and explains each step of the treatment. I really recommend ...
Dr. Downie was professional, thorough, and took the time to answer all of my questions. He was highly knowledgeable about the meds I was taking and fe...
I cannot say enough good things about this physician and her caring staff. We went to see her for a second opinion and I am so glad that we did. We f...
So impressed! Dr. Stratham is patient, kind, witty, and very thorough. She answered all of our questions and I'm glad she will be my daughter's surg...
We were referred to Dr. Statham when my son was about 9 months old. Dr. Statham has removed a dermoid cyst from his nose and he is not showing a need ...
Dr Statham is amazing and the staff is wonderful. She has been with my son since he was born and he is 4 yrs now and he still sees her. I would never ...
She is the best. She has excellent bedside manners and she cares about all her kids. I would recommend her to all my friends. When your child become h...
Although the reason for the link between the two conditions is unknown, the investigators suggest that a common pathology may underlie both or that the strain of decoding sounds over the years may overwhelm the brains of people with hearing loss, leaving them more vulnerable to dementia. They also speculate that hearing loss could lead to dementia by making individuals more socially isolated, a known risk factor for dementia and other cognitive disorders.
Whatever the cause, the scientists report, their finding may offer a starting point for interventions - even as simple as hearing aids - that could delay or prevent dementia by improving patients' hearing.
"Researchers have looked at what affects hearing loss, but few have looked at how hearing loss affects cognitive brain function," says study leader Frank Lin, M.D., Ph.D., assistant professor in the Division of Otology at Johns Hopkins University School of Medicine. "There hasn't been much crosstalk between otologists and geriatricians, so it's been unclear whether hearing loss and dementia are related."
To make the connection, Lin and his colleagues used data from the Baltimore Longitudinal Study on Aging (BLSA). The BLSA, initiated by the National Institute on Aging in 1958, has tracked various health factors in thousands of men and women over decades.
The new study, published in the February Archives of Neurology, focused on 639 people whose hearing and cognitive abilities were tested as part of the BLSA between 1990 and 1994. While about a quarter of the volunteers had some hearing loss at the start of the study, none had dementia.
These volunteers were then closely followed with repeat examinations every one to two years, and by 2008, 58 of them had developed dementia. The researchers found that study participants with hearing loss at the beginning of the study were significantly more likely to develop dementia by the end. Compared with volunteers with normal hearing, those with mild, moderate, and severe hearing loss had twofold, threefold, and fivefold, respectively, the risk of developing dementia over time. The more hearing loss they had, the higher their likelihood of developing the memory-robbing disease.
Even after the researchers took into account other factors that are associated with risk of dementia, including diabetes, high blood pressure, age, sex and race, Lin explains, hearing loss and dementia were still strongly connected.
"A lot of people ignore hearing loss because it's such a slow and insidious process as we age," Lin says. "Even if people feel as if they are not affected, we're showing that it may well be a more serious problem ."
The research was supported by the intramural research program of the National Institute on Aging.
Source: Johns Hopkins Medicine