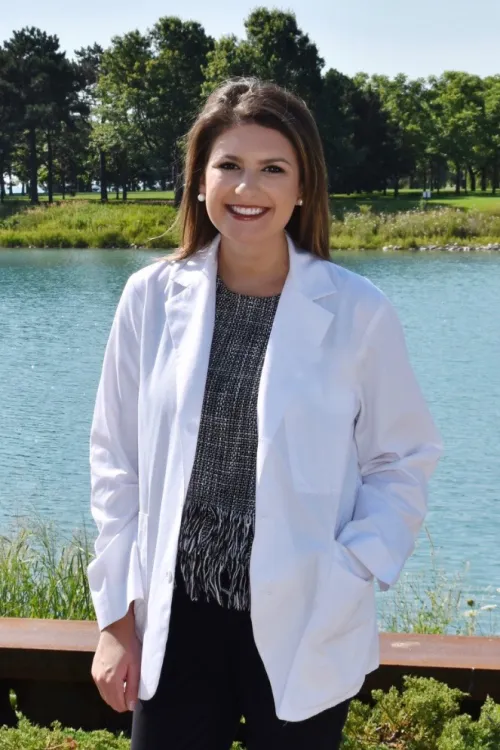 Mara G. Michel
Au.D, CCC-A
Areas of Interest
Cochlear Implant Evaluation and Programming

Pediatric Diagnostic Testing

Pediatric and Adult Hearing aids
Education
Doctorate of Audiology: Northwestern University, Evanston, IL

BA in Speech & Hearing Sciences: Indiana University, Bloomington, IN

Audiology Externship Training: Weill Cornell Medicine, New York, NY
Memberships
American Academy of Audiology

American Speech-Language Hearing Association
Certification and License
American Speech Language-Hearing Association

State of Georgia, Audiology
About Mara G. Michel
Dr. Mara G. Michel received her Doctor of Audiology (Au.D.) degree from Northwestern University. She obtained her Bachelor of Arts degree in Speech and Hearing Sciences from Indiana University-Bloomington. Dr. Michel is licensed in Audiology through the State of Georgia and holds the Certificate of Clinical Competence in Audiology (CCC-A) from the American Speech Language Hearing Association (ASHA). She presently maintains membership in ASHA and AAA.
Dr. Michel completed her Audiology Residency at Weill Cornell Medicine. Her clinical expertise includes the diagnosis of adult and pediatric hearing loss, otoacoustic emissions (OAE) testing, and audiologic rehabilitation, including management of amplification and cochlear implants for the adult and pediatric populations.
Dr. Sinha is one of the finest physicians I've ever met. He gives undivided attention, provides clear explanations, answers questions thoroughly, exu...
I've been going to Dr. Sinha for my sinus needs for a few years now. He is a great doctor that actually takes the time to explain things to me and is ...
The most thorough medical exam I have had in years. You and your staff were excellent. Thanks, Doc. Happy Diwali ya!
Excellent bedside manner! Thorough evaluation and explanation of all steps and kept me comfortable throughout the procedure. High quality staff.
Dr. Sinha is a good physician and I will see him again.
Dr.Andrews is very patient in attending any of his patients.. he took enough time in listening n attending my concerns.. I definitely recommend him
My appointment with Dr. Andrews was fantastic. He was extremely professional. He puts patients first. I left with my issue resolved! I highly recommen...
Dr. Andrews is the most patient doctor I've met. He was thorough with everything and took his time to explain everything to me. I felt ensured that my...
Dr. Lanny Close is highly knowledgeable and very personal. As a first time visitor, I was able to make a same-day appointment and tackle a sinus infec...
Pleasantly surprised at the overall experience. Front desk staff was courteous, knowledgeable, and have a positive attitude. Doc was super attentive. ...
Excellent & very detailed.
He is such an amazing and very knowledgeable doctor.
This was my first visit to Dr. Downie and his practice. I made an appointment to get my ears unclogged after one got so jammed up I couldn't hear at a...
First time at an ENT, very kind, helpful and knowledgable. Put my worries to rest. Would recommend definitely.
Dr. Downie is very professional, knowledgeable and proactive. He listened, asked questions and scheduled tests to further evaluate my situation. He pe...
My visit went well, the doctor was on point, listen to what my issues were and solved my problem right there. We talked about another issue that I hav...
Downie is really kind and excellent doctor. He tells you the problem in a transparent way and explains each step of the treatment. I really recommend ...
Dr. Downie was professional, thorough, and took the time to answer all of my questions. He was highly knowledgeable about the meds I was taking and fe...
I cannot say enough good things about this physician and her caring staff. We went to see her for a second opinion and I am so glad that we did. We f...
So impressed! Dr. Stratham is patient, kind, witty, and very thorough. She answered all of our questions and I'm glad she will be my daughter's surg...
We were referred to Dr. Statham when my son was about 9 months old. Dr. Statham has removed a dermoid cyst from his nose and he is not showing a need ...
Dr Statham is amazing and the staff is wonderful. She has been with my son since he was born and he is 4 yrs now and he still sees her. I would never ...
She is the best. She has excellent bedside manners and she cares about all her kids. I would recommend her to all my friends. When your child become h...
Real Self User - KALLEN329
Dr. Walker is absolutely amazing!
Real Self User - KEESLEREDWARD
Hats off to Dr Thomas Walker.... he has changed my life in the MOST POSITIVE way.
The most honest and straight forward doctor I have seen.
Dr. Walker is the ultimate professional and has provided excellent service.
Real Self User - LOVELY717
Loved my whole experience with Dr.Walker and his staff.
Real Self User - KJWHITLEY
Dr. Walker is extremely knowledgeable, talented, personable, and professional.
Real Self User - GEORGIAOT
Fantastic, I would recommend to anyone.